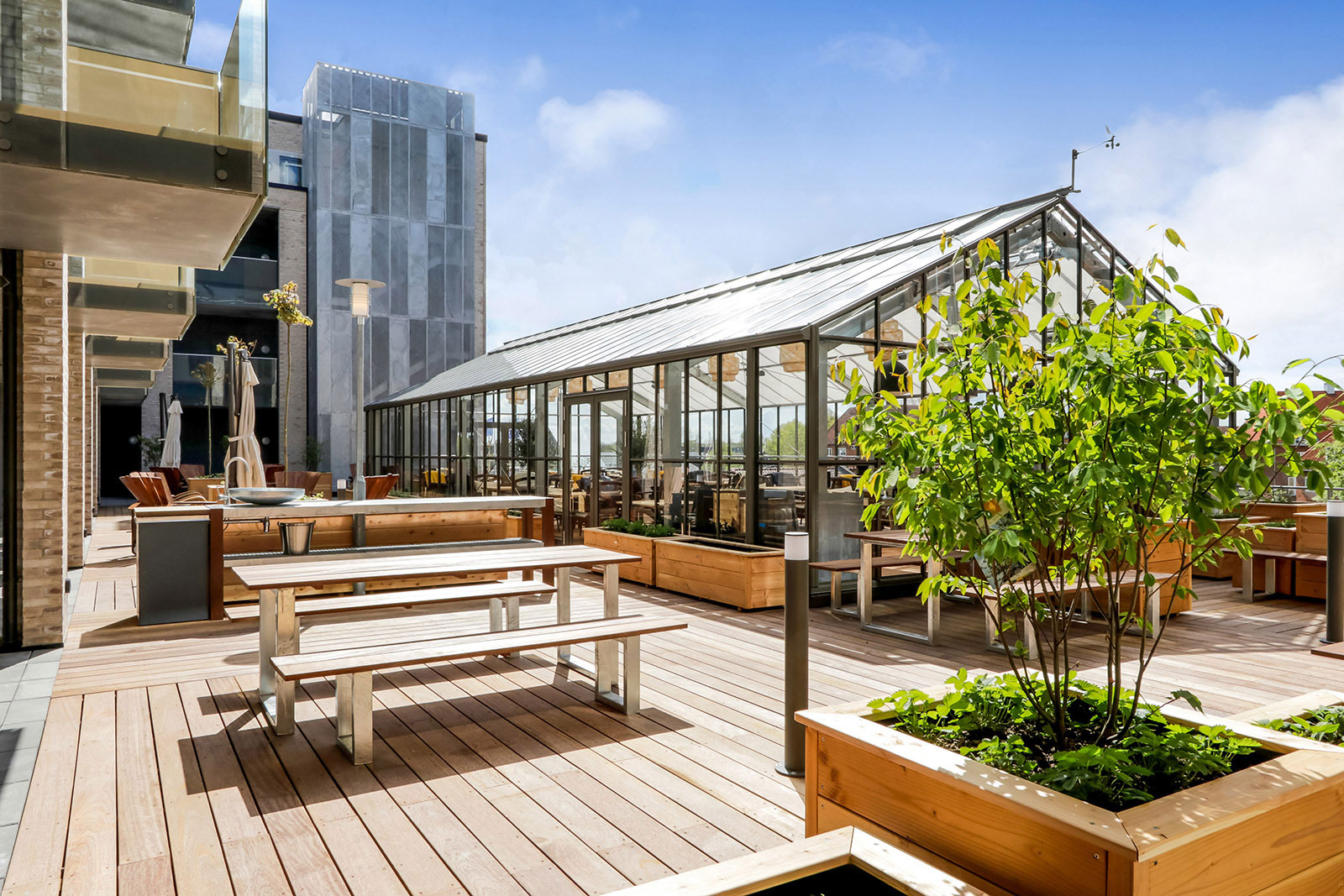 ---
Glass construction provides beautiful common houses in housing associations
Should the housing company build something new? Or renovate and create new communal facilities in an existing residential complex? Regardless of whether it's about new construction or renovation, a glass building can create more value for residents as a communal space and as secure, bright, and friendly extra square meters for daily life in a housing association.
A glass building is a good opportunity to create a bright community hall, resident lounge, or recreational area that is open and inviting, turning it into a social focal point. Well-being is enhanced by relationships and community, and a greenhouse, a communal greenhouse, an orangery, or a pergola, or a covered extension or atrium provide new opportunities for outdoor living throughout the year – the 5th season for residents.
It's not just tenants, owners, or shareholders who experience added value to the residence and surroundings with a glass construction in a residential property. For the housing company, it can make the property more attractive, reducing departures and attracting new residents.
With a Drivadan glass construction, there are no constraints in creating common spaces that fit into the residential property's architecture and open spaces, meeting residents' desires – both in style and function. Drivadan's special steel construction, aluminum, and glass mean that the construction is never bound by standard dimensions in base measurements, roof pitches, and glass widths.
So, for a development manager, operations manager, or other responsible individuals or decision-makers in a housing company, there are many opportunities to initiate a glass construction in all types of properties. Drivadan is happy to contribute suggestions and develop the design of glass buildings.
Renovate the property with glass construction
If you have served on a board in a housing association, you are familiar with the responsibility to develop the property's facilities and continually create good conditions and opportunities for residents. A glass space is a viable option to be proactive and add new communal life to almost any type of residential property.
With a glass construction, a housing association or property owners' association can utilize roof areas, gardens, courtyard spaces, including atriums and rooftop terraces, with value-adding new glass facilities that can boost well-being and resident satisfaction – improving the overall quality of communal living.
The glass construction can be a standalone building, or it can be built together with, on, inside, and even around the existing structure, depending on the specific construction and the needs and desires of the housing association and residents. Drivadan has no standard dimensions, so glass buildings can be tailored to fit all constructions and preferences.
Glass buildings can be utilized in many ways: Common spaces such as banquet halls and lounges, greenhouses and orangeries. They can connect indoor and outdoor living in the development in a beautiful and straightforward manner.
Drivadan has extensive experience with glass constructions in residential properties, and we can provide advice on possibilities and designs. This includes energy optimization and indoor climate, as with Drivadan, you can choose from various types of insulated or non-insulated glass, and advanced climate control with automatic window opening, ensuring the bright space is comfortable throughout the year.
Incorporate glass constructions into new residential development
When a housing association or property company is considering new construction, it can be beneficial to integrate communal spaces and resident areas with glass from the outset. This adds extra value to the residences when leasing or selling in a real estate market where competitiveness is crucial, and every square meter counts.
A glass building or a glass canopy can be an innovative way to create value in a new apartment complex, allowing residents to enjoy outdoor living, light, and nature throughout the year. It's a quality of life that appeals, even in housing developments governed by public housing laws and construction projects that require approval from public financing institutions.
Therefore, it's a good idea for a housing company as the developer and architects designing the building to consider possibilities for glass communal spaces early in the project. Drivadan is ready to provide tips and advice on what is possible—with Drivadan's unique steel construction, aluminum, and glass, all sizes and architectural designs are possible.
The glass construction can be freestanding or integrated with the building, rectangular or round, and with any desired roof pitch. Drivadan has no standard dimensions; here, only quality and durability are standard.
Meeting rooms, common areas, greenhouses, pergolas, atriums, glass buildings can serve various purposes, all allowing residents to enjoy light and surroundings in spring, summer, fall, and winter—glass construction can provide the fifth season. Also, with energy-efficient solutions and smart and effective indoor climate control.